STUDENT ATHLETE COLLEGE EXPERIENCE - RECORDING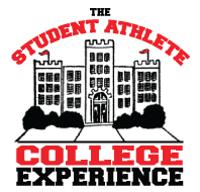 Are you (or your child) considering playing sports in college?
If so, please join us for a conversation and to hear four Hingham High School Alumni and Coach Dacey talk about college and the athletic experience.
VIDEO LINK:
Click here for the recording of this event
 
KEY TAKE-AWAYS:
Hingham Sports Partnership brought together four Hingham college athletes to share "The Student Athlete College Experience." Four Hingham High grads, representing various college sports and levels (from Division 1 to club), candidly shared their college athletics experiences with current students and parents. Hingham High School Girls Varsity coach Sarah Dacey also provided tremendous insights on what to consider when deciding whether to play college sports. Here are some takeaways:

Academics is #1: A quality college education is paramount. When you are a college athlete, academics is the top priority. You won't play sports forever, but you need a good education to get a good job, have income and a good life.

Recruiting Process Can be Long, Stressful and Exciting: It's never too early to start thinking about the recruiting process and your potential schools of interest. However, it's also never too late to get started (even junior year) if you are serious about playing in college.

Division Level Matters: Division 1 is all-encompassing. For students who don't want to give up their sports after high school, but don't want to give their entire college experience to sports, Division 3 could be the right choice

College Research and Coach Outreach from Coach Dacey:
Do your research: During sophomore year, start putting a list of schools together. When thinking about which schools you'd be interested in playing sports for, consider the following: What division would you like to play in? What do you want to study? Where in the country would you like to study? What kind of players

Be proactive: Reach out to coaches, don't wait for them to contact you. College coaches get hundreds of emails a day from athletes interested in their program. They also want to hear from students directly, not the parents (unless it's for financial discussions or student well-being). Personalize letters to show them you are interested in their school and did your homework on their program (mention what conference the college plays in, record of the time, etc.)
 
Be Thorough: When contacting coaches, be sure to include: your name, graduation year, player bio, highlight reel, club and academic team information, why you want to play at their school. If you are playing in a showcase or tournament, send a follow up note and include date and time, location, field number, your jersey number, etc.
 
Scholarships: Full athletic scholarships are few and far between. Division 3 and Ivy League don't offer athletic scholarships. However, there are other ways to get funding: academic scholarships, grants, etc. to help pay for education.

Club and Intramural Sports: Many colleges have club level sports with varying degrees of intensity. These can be fun yet competitive for former high school athletes because these teams train and play in tournaments, etc. Intramural teams are an option too

Sports Help Build Community: Sometimes, students don't love their school choice or find a good group of friends at first. One student met friends and roommates through club hockey, which gave him a sense of community like he had in high school

Student Athlete College Experience Flyer (PDF)

The Hingham Journal wrote an article in its' July 13, 2017 paper about the new athletic complex at the High School.  This great article explains the role that Hingham Sports Partnership played in the project and how HSP works with the community:
""This project was built by the community for the community," said Warren Pelissier, a former president of HSP, the Hingham Sports Partnership, an independent non-profit that supports all town athletic programs. HSP raised $1.1 million in donations and contributed another $250,000 of its own funds, half down and half pledged over five years. This June, HSP made its final payment of $25,000 to the town a year early...."
(use the link below for a reprint of the article)

 "Hingham High athletic complex is paying dividends" - Hingham Journal, July 13, 2017