Four Presidents Spearhead New Varsity Boats for Hingham Crew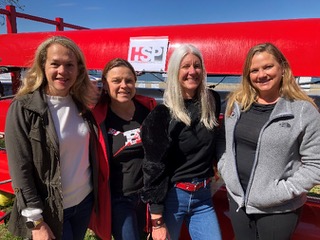 Pictured: Eryn Kelley, Liza MacKinnon, Sonya Claridge, and Deb McCarthy
Four local women serving as presidents leading local nonprofit youth-focused organizations got together this weekend to celebrate the official launch of the three new Hingham Sports Partnership (HSP) sponsored Hingham High Crew boats.
This day was a culmination of their efforts to join forces to benefit Hingham High Rowing Association's (HHSRA) fundraising efforts. Local nonprofit leaders, including HSP President Deb McCarthy, HHSRA President Sonya Claridge, Hingham Maritime Center (HMC) President Liza MacKinnon, and Hingham Education Foundation (HEF) President Eryn Kelley collaborated to offer new opportunities for HHS youth rowers.
HHSRA President Sonya Claridge says, "Hingham Crew is proud that the community could directly see the result of HSP's $20,000 grant via a boat full of HHS rowers out rowing in races versus Duxbury and Tabor at the Salty Bow Regatta last Saturday. Hingham is currently ranked #3 and is chasing the #1 rank in its new state-of-the-art Vespoli racing boats!"
Eryn Kelley advised HHSRA to submit a grant request to HSP President Deb McCarthy to increase the fleet size of boats and accommodate 110 rowers involved in Hingham Crew.
Through her role at HMC, Liza MacKinnon supports access for crew training at HMC docks. She is also a HHSRA Board member and sophomore crew parent. She collaborated to get the three new racing boats project started and finished to fund Hingham Crew's future fleet.
McCarthy says, "This effort is an excellent example of what's possible when local organizations collaborate to benefit our students. HSP was so proud to provide the $20,000 grant to HHSRA. It reflects our mission to provide grant funding that allows more athletic participation for more students; invests in long-lasting equipment; and helps grow a strong existing sports program."
To support HHSRA's continued fundraising efforts:
Buy a Boat by the Foot is $5,000 from its goal towards the next $20,000 to fund new Hingham Crew boats - click the link to add your name!